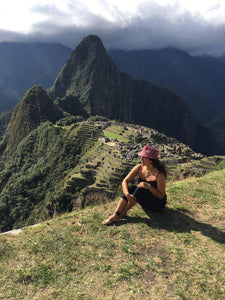 Ytala Chacon
After 8 years of traveling around South America (Peru, Colombia, Ecuador, Paraguay, Uruguay, Chile, Bolivia, Brazil) and some states of North America (Florida, Oregon, Los Angeles, Nevada) I arrived in 2011 to the wonderful and heavenly Hawaiian Islands. In Hawai'i, I learned the concept of ALOHA (Hello, Bye, Love, represents the spirit of the Hawaiian) and OHANA (family) that made me stay in love with this culture.
Fusing the mystique of the Andes, the art of the Incas with Aloha Spirit of Hawai'i, my dream Ayahuasca Art was formed into a company, rather a small business.
I have for you a range of jobs ranging from minimalism to elaborate pieces. Most of my pieces are unique for people who are looking for something different, original, having a touch of spirituality, wisdom and love.
I am a daughter of the sun, the heir of a great culture, I come from the land of the Incas – Peru.